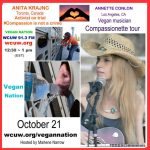 I'm so very honored to be interviewed by the gracious and giving Marlene Narrow of Vegans Rising/Vegan Nation WCUW! I can't wait for you to hear our lovely chat!! It will air live, Friday, Oct 21, from 12:30-1pm EST, and you can listen many ways!!
Tune in live to WCUW 91.3 or listen to archived shows at http://wcuw.org/vegannation
Also on the show: The wonderfully compassionate Anita Krajnc, from Toronto, CA, who speaks about compassion, and her activism in helping pigs on their way to slaughter. This is a very special show!! Hosted by the wonderfully caring Marlene Narrow out of Worcester, MA!