Life, Death, and the Spaces Between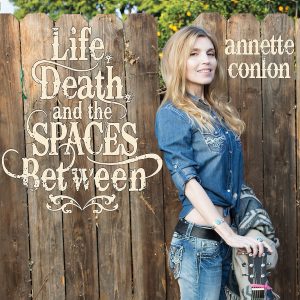 LIFE, DEATH, AND THE SPACES BETWEEN was released April 17, 2015. The 15 songs explore the dark and light parts of Annette's two-year journey with a deadly illness, multiple surgeries, and a major brain injury, wrapped in the warm blanket of Americana music. Will Phoenix at AXS.com was first to review the record in April 2015 and found it "a sincere compilation of emotionally-born compositions."
A five star review in Country Music People (July, 2015) states, "Annette Conlon has given us 15 remarkable songs. She emerges at once as a major talent…Annette Conlon has created a moving, intimate, magical, melodic country trip." – Country Music People (July 2015)
Tracks from LIFE, DEATH, AND THE SPACES BETWEEN are earning radio play in the U.S., Europe, and made the Top 100 RadioFreeAmericana chart. The five star review in Country Music People caught the eye of an UK online retailer and an international distribution deal out of Nashville, TN is now underway.
Life, Death, and the Spaces Between Track List:
Cedar Box
Live Like an Angel
Life, Death, and the Spaces Between
First Suicide
Signed, Love Me
Fell
Without You
Faceless Angel
Rodeo
Ten Thousand Steps
That's the Way It Goes
Canyon Winds
Off the Rails
You Gave Me Wings
Sweet Sophia
The album was produced by Ted Wulfers at 663 Sound in Los Angeles, CA and mastered by Richard Dodd at Richard Dodd Mastering in Nashville, TN.